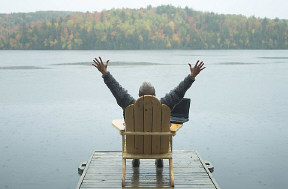 How I work
I see most clients at my residence near Mold, North Wales. If the clients can't travel, I will visit them at a place of their convenience within a 30 mile radius. The atmosphere is relaxed and informal.
I work intuitive rather than methodical, where the particular type of counselling model is secondary, which is a seamless switch from one model to another.
The sessions are for one hour, occasionally longer.
The framework is one of confidentiality, where the client gets a sense of safety and protection. Clients are invited to be themselves and open their hearts, maybe for the first time in their lives.
Since every human being is different and unique, there are no specific guidelines which can be applied for any two clients in the same way; it is really a matter of 'horses for courses'.
I help clients to explore the world and their experiences from various angles, and consequently develop alternative methods and strategies to give them a much wider range of life choices.
I examine limiting beliefs with my clients, who are more often than not unaware that their own belief system is actually not working for them.
The core of my work lies in the client's relationship with themselves. By that I mean the more positive the client is with him/herself, the less the co-dependency with others. This forms a solid platform from which to operate and build life quality. If I love, respect, trust and accept myself, I need others only to confirm that I am lovable, respectable, trustworthy and acceptable.
The bottom line is always the client's safety, the goal always to develop more suitable choices.
I am fully insured for professional indemnity and public liability.
Fees vary and are arranged when making an appointment.
How to get in touch
Phone: 01352 219038
Mobile: 07900 181736
(you can leave a message, if I'm not available at the time, I'll get back to you immediately)
email: info2015@access-to-life.com
Post:
26 Gosmore Road
New Brighton
Mold
CH7 6QN